Collaborative Incident Management
Back to Projects & Initiatives
In the Phoenix metropolitan region, the Arizona Department of Public Safety (AZ DPS), the Arizona Department of Transportation (ADOT) and the Maricopa County Department of Transportation (MCDOT) collaborate to provide a more responsive and integrated incident response to crashes and events that require emergency traffic management.
ADOT IRU
Arizona Department of Transportation (ADOT) Incident Response Unit (ALERT) responds to incidents on the freeways.
MCDOT REACT
The Regional Action Coordinating Team (REACT) program started with nine members and six vehicles to provide on-call emergency traffic management within the jurisdiction of Maricopa County, Peoria, and Glendale. Today, the team has 20 members and 15 vehicles split into three teams, one daytime team and two rotating afternoon teams, serving Maricopa County and the cities of Avondale, Glendale, Peoria, Tolleson and Scottsdale. REACT also responds to county maintained roads within the Salt River Pima-Maricopa and Gila River Indian Communities.
The REACT team's first call was on that fateful day of 9/11. The city of Glendale asked the REACT team to help close down the streets surrounding Luke Air Force Base until cement barriers could be set in place.
The major goals of REACT are:
Goal #1: To help improve the safety and security of an incident scene and everyone involved with the incident. This includes public safety responders who are working the scene and motorists who are at or near the scene.
Goal #2: To minimize how much and how long the incident affects the traveling public. This may involve warning motorists of the incident, closing traffic lanes, informing motorists of alternate routes, and clearing the roadway of vehicles and debris.
Goal #3: To provide emergency traffic incident management within Maricopa County as well as providing mutual aid to partnering cities. (REACT has the ability to handle at least two incidents simultaneously.)
These goals are met through the team's commitment to Traffic Incident Management (TIM), Incident Command System (ICS), training, communications, Quick Clearance practices, and Accident Scene Imaging (ASI). REACT responds 24 hours a day, 7 days a week, 365 days a year to assist partnering agency personnel with emergency traffic situations, fires, homicide scenes, HazMat incidents, criminal investigations and much more.
MCDOT is the lead agency for the implementation of the REACT program.
Performance
In the 2016 fiscal year, REACT responded to 179 callouts. During that year, REACT met its response time goal, which is to respond within 30 Minutes to incidents that are no more than 20-miles from the nearest responder. There were no secondary accidents during any of these responses. REACT responded to mainly two types of incidents: injury incidents (47% of the total) and fatal incidents (38% of the total).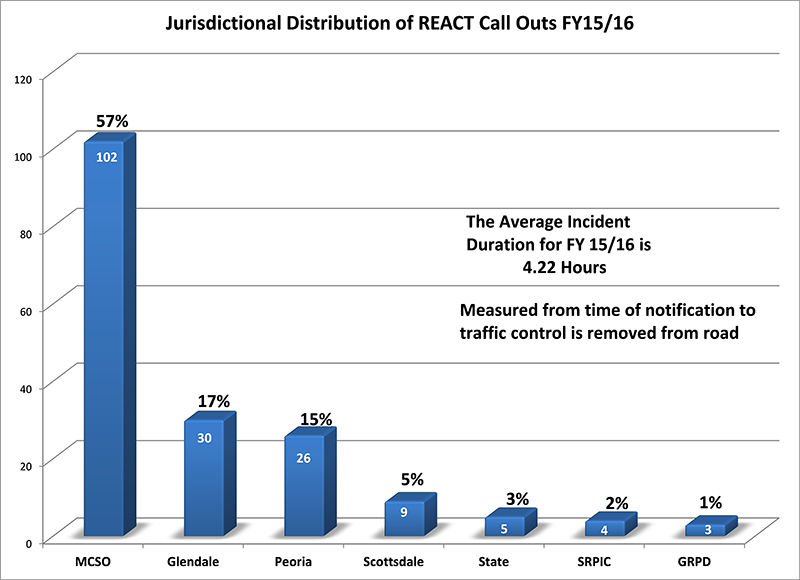 Benefits of the Program
Benefits demonstrated by the REACT traffic incident management program include enhanced safety of the traveling public and first responders, security of incident site, timely information to the public, optimum mobility and minimizing clearance time which contribute to congestion relief and economic savings.
Safety Benefits
Benefits demonstrated by the REACT traffic incident management program include improved safety for emergency responders and investigators by providing better traffic management at incident scenes, increased safety to the motoring public and reduction in secondary accidents through deployment of clear and efficient traffic control.
Some of the specific benefits include:
Reduction in secondary crashes per year
Ability to reduce responder incident scene-related fatalities and injuries
Economic Benefits
The program reduces the adverse economic impacts associated with long-term incident congestion and provides an efficient use of community resources through inter-jurisdictional cooperation. Some of the specific economic benefits include:
Reduction in hours of annual travel time delay
Reduction in annual gallons of wasted fuel consumption
Reduction in annual tons of vehicle pollution emissions
A REACT Evaluation Study conducted in 2002 concluded that the estimated benefit-to-cost ratio for REACT is 6.4:1, based on the operating level averaging about 100 responses per year. The benefit-to-cost ratio increased to 7.9:1 if the number of call-outs increased to 150 per year. If the number of call-outs were increased to 175 to 200 call-outs per year, the benefit-cost ratio would increase further to over 8:1.
Future plans include expanding REACT to include the Salt River Pima-Maricopa Indian Community.